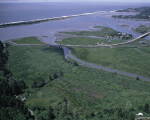 Environment & Natural Resources Site Map
Lincoln City is surrounded by scenic natural resources. See map.
Creeks: Agnes, Anderson, Drift, Rock, Schooner, Thompson
Lakes: Devils Lake, Spring Lake
Rivers: D River, Siletz River
Parks and Open Spaces
State Parks: Devils Lake (2) & several waysides
North: Roads End, Salmon River, Cascade Head, West: Pacific Ocean
South: Siletz Bay National Wildlife Refuge, East: Siuslaw National Forest
See - National Forest Foundation - www.natlforests.org
Heart of Oregon Corps - www.heartoforegon.net
Grants
Trails
Kodak American Greenways Awards Program
Conservation Fund, National Geographic
conservationfund.org
National Forest Foundation
natlforests.org
Education
Learn and Serve
Become an educated and practicing steward of the environment.
Birds: In 1995 Range Bayer compiled a list of birds of the Lincoln City area with detectability codes. The Portland Audubon Society website lists the ten best places in Oregon to see birds (www.audubonportland.org). Two are north of Lincoln City and two are south of Lincoln City along the coast. Boiler Bay State Wayside just south of Lincoln City is in the top ten. Siletz Bay is listed as an Important Bird Area (IBA). See Range Bayer's website at www.orednet.org/~rbayer/. See the table below.
Burning: Outdoor burning is banned in Lincoln City to protect air quality. Contact the City about yard debris removal solutions.
City Clean-ups: Usually in April. Check the local newspaper. Several organizations collect used items for resale: Elks, Goodwill, Salvation Army-Newport.
Conserve: Water and Electricity
Environmental Events: In the past, Lincoln City has celebrated National Arbor Day (April) , Earth Day (April 22), International Migratory Bird Day (May), National Trails Day (June), Watershed Weeks (fall).
Permits: Get the proper permits before altering or developing land in Lincoln City.
Recycling and composting: Along with regular recycling, special opportunities exist to recycle items such as computers, oil, paint, tennis shoes. Contact the North Lincoln Sanitary Service (541-994-5555) or Lincoln County Solid Waste (541-265-4171). Computer printer cartridges can be recycled and earn funds for local schools. The Elks collects old newspapers.
Recycling Awareness Week - usually middle of November will focus on the act of trying to reduce and prevent waste.
Riparian areas: The land adjacent to water bodies is valued and protected.
Salmon: Native salmon from the Atlantic Ocean no longer exist. The watershed councils of the Pacific Coast are working to save our wild salmon population from extinction. Devils Lake and Siletz Bay have native salmon populations.
Trees: Lincoln City has an ordinance regulating tree removal.
Waste: Do not put grease and chemicals down the sink or toilet. Contact City Hall for a brochure to learn about protecting the water and sewer systems.
Watersheds: Groups are working at the local, county, state and federal level to protect coastal watersheds for salmon habitat and other environmental benefits.
Wetlands: Wetlands are valued and protected.
Wildlife: A bird list and brochures about wildlife are available from the Visitor and Convention Bureau. Contact the Oregon Department of Fish and Wildlife for other information. Whale watching can be enjoyed. Harbor seals can be seen from SW 51st St.

Open Space Acquisition Program: The Friends of Wildwoods and Trails, Inc. began in 1993 and worked with the city to acquire the Spring Lake Open Space and the Cutler City Wetlands Open Space. In 1998 Lincoln City residents passed a $3 million bond measure to purchase open space. The City of Lincoln City formed an Open Space Committee. As of January, 2004 over 200 acres have been purchased. The City has received $544,500 in grant funds. The properties purchased include Agnes Creek, D River, Spring Lake addition, Alice Park, Seid Creek, Friends of Wildwoods & Trails, Butler, Burrows, Mazloom, and Spyglass. The Slayden property was a donation.
Nature Center: Proposed.
Lincoln County area Conservation
Cascade Head - Nature Conservancy
nature.org
Central Coast Land Trust
Lincoln Soil & Water Conservation District
Lincoln County Solid Waste Consortium - recycling

541-265-4171
Lincoln County -
Environmental Manager, etc.
co.lincoln.or.us
Lincoln County Interpretive Association (LCIA)
exploreoregoncoast.org
Lincoln County Mycological Society
Lincoln Land Legacy Program -
Lincoln County, Newport
co.lincoln.or.us
Marine Discovery Tours - Newport
marinediscovery.com
Mid-Coast Watersheds Council - Newport
midcoastwatershedcouncil.org
Oregon Coast Agate Club - Newport
541-574-2252
Sitka Center for Art & Ecology - Cascade Head
sitkacenter.org
Yaquina Bay Birders & Naturalists - Newport
Lincoln County Natural History - birds lists, etc.
orednet.org/~rbayer
Newport has two lighthouses, the Yaquina Bay Lighthouse (State Park) and the Yaquina Head Lighthouse (BLM). Environmental education and interpretation are offered at the Yaquina Head Outstanding Natural Area, and on a smaller scale at the Yaquina Bay Lighthouse.
Photo: Siletz Bay National Wildlife Refuge/USFWS
Siletz Bay National Wildlife Refuge consists of some of the most scenic
estuarine habitat along the Oregon coast highway. On either side of the
Highway 101, starched skeleton trees jut forth from the estuary and are
reminiscent of a time when the salt marsh was diked. Red tailed hawks, bald
eagles, and other raptors can often be seen roosting at the top of these
snags and a variety of estuarine dependant birds including great blue
heron, great egret and many species of waterfowl can be seen foraging in
the tidally influenced waters. Siletz Bay National Wildlife Refuge was
established to protect salt marsh, brackish marsh, tidal sloughs, mudflats,
and coniferous and deciduous forestland. The refuge provides nursery
grounds for coho and chinook salmon, steelhead and cutthroat trout.

Oregon Coast Aquarium - in Newport only 25 miles south of Lincoln City - www.aquarium.org
One of the "Top 10" aquariums in America. What does it mean to be on an American "Top 10" list?
Parade Magazine's list of Top 10 Aquariums in the United States includes amazing places like the Baltimore Aquarium, New Orleans' Aquarium of the Americas (CQ) and the Monterrey Bay Aquarium. (CQ) But all of them are in major cities, with populations in the mega-thousands, or places like Monterrey, where the annual income is.
This website is not sponsored by any organization or government agency.
Copyright © 2003-2009, Lincoln City Online.com - All Rights Reserved.